Lot 10252 –
1885 (13.5) 20 Paras postal stationary card from Dongola to Cairo from the Gordon Relief Expedition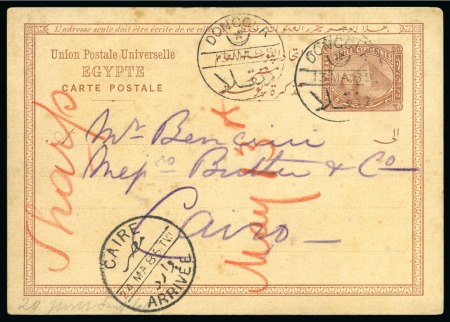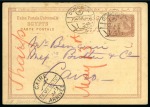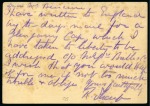 Los 10252
Egypt » Egyptian Post Offices Abroad » Territorial Offices » Dongola (Sudan)
Beschreibung:
1885 (13.5) 20 Paras postal stationary card from Dongola to Cairo, paying the domestic rate, cancelled by small bilingual DONGOLA with another strike alongside, arrival cancellation in Cairo 24 May 85, the reverse of the card has the following message: "Dear Mr. Bencini, I have written to England by to-days mail for a Glengarry Cap which I have taken the liberty to be addressed c/o Messrs. Butfen 8 Co. I wish that you would keep it for me if not too much trouble & oblige. Yours faithfully, R. Sharp"
Note: GORDON RELIEF EXPEDITION — NILE RIVER COLUMN – This is the latest recorded cover of the Nile River Expedition from Dongola.
A Glengarry Cap is a woollen cap that is creased lengthwise and often has short ribbons at the back. It is named after a valley in central Scotland. Richard Grainger Atkinson Sharp of the Royal Sussex Regiment was commissioned a Second Lieutenant on 19 February 1881 and a First Lieutenant on I July 1881. He served in the Egyptian War of 1882 receiving the Egyptian Medal and Khedive's Star. He also received a Clasp for service with the First Battalion during the 1884-1885 Nile Expedition.
Loggen Sie sich in Ihr Konto ein