Los 60723 –
1849 Entire letter from France with cds "ROUEN 12 MAI 49" sent unpaid to Gothenburg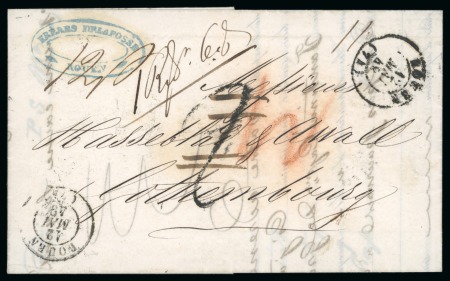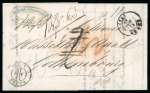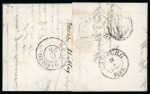 Los 60723 –
1849 Entire letter from France with cds "ROUEN 12 MAI 49" sent unpaid to Gothenburg
Sweden
Realisierter Preis
70 EUR
Auktionsdatum
Do. 17 Jun 2021 at 09:00 (Europe/Zurich)
1849 Entire letter from France with cds "ROUEN 12 MAI 49" sent unpaid to Gothenburg, SWEDEN, via Thurn and Taxis and K.D.O.P.A.HAMBURG 21.12 post office. Interesting French 2 decimes h.s cancelled and high Swedish postage due 1 riksdaler and 6 skilling applied in manuscript.
Please note that we are still working on adding images for the lots. If the lot you are interested in does not have images available yet, we invite you to check again in a few days.
If you still cannot find the images you are looking for in a few days, please send us a message. Important: don't forget to mention the lot number(s).
Thank you for your understanding.
Loggen Sie sich in Ihr Konto ein