Los 60705 –
1850 12 cuartos lilac with red cds "SANTIAGO 5 MAYO 1850 GALICIA" and Araña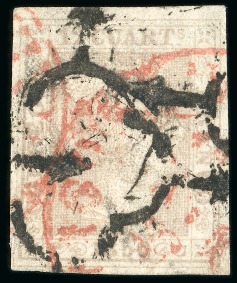 Los 60705 –
1850 12 cuartos lilac with red cds "SANTIAGO 5 MAYO 1850 GALICIA" and Araña
Spain
Realisierter Preis
Unverkauft
Auktionsdatum
Do. 17 Jun 2021 at 09:00 (Europe/Zurich)
1850 12 cuartos lilac with red cds "SANTIAGO 5 MAYO 1850 GALICIA" and Araña. According to certicate Graus "AN ITEM OF EXTRAORDINARY RARITY – OF GREAT INTEREST FOR THE SPECIALISED COLLECTION". THE BAEZA CIRCULAR DATE STAMP CANCELLATION IS VERY RARE ON 12 CUARTOS. Only 3 copies are known, see book of the Jose Alberto Barreras collection, ex Alemany (Edifil €3'250).
Please note that we are still working on adding images for the lots. If the lot you are interested in does not have images available yet, we invite you to check again in a few days.
If you still cannot find the images you are looking for in a few days, please send us a message. Important: don't forget to mention the lot number(s).
Thank you for your understanding.
Loggen Sie sich in Ihr Konto ein