Los 60124 –
Hermannstadt, Sibiu in modern day Romania – Transylvania (Siebenbürgen). The largest franking recorded from Austrian Transylvania on mail sent abroad, being the second largest known from Hungary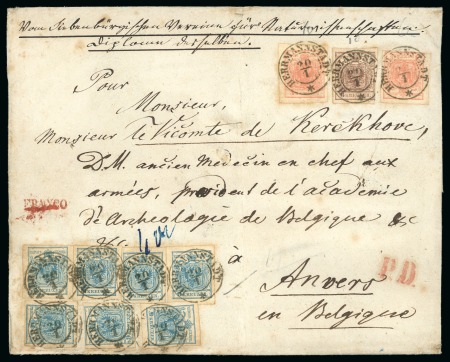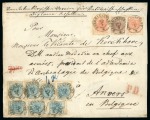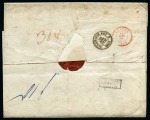 Los 60124 –
Hermannstadt, Sibiu in modern day Romania – Transylvania (Siebenbürgen). The largest franking recorded from Austrian Transylvania on mail sent abroad, being the second largest known from Hungary
Austria » Transylvania (Siebenbürgen)
Realisierter Preis
16'000 EUR
Schätzung
5'000 – 7'500 EUR
Auktionsdatum
Do. 17 Jun 2021 at 09:00 (Europe/Zurich)
Hermannstadt, Sibiu in modern day Romania. 1850 two 3kr, 6kr single and seven examples of 9kr, on 20.1.1857 large cover from the Natural Science Society of Transylvania in Hermannstadt (endorsement at top and red wax seal on reverse) addressed to the Viscount of Kerckhove, President of the Belgian Academy of Archaeology in Antwerp; all stamps, with usual aging, being in good condition and well margined, except for one 3kr which is barely touched on one side, tied by cds's on dispatch, red "FRANCO" and "P.D." on front, transits and arrival on reverse; the largest franking recorded from Austrian Transylvania on mail sent abroad, being the second largest known from Hungary (the largest being applied on an incomplete cover).
Note: The franking paid the quintuple weight to Belgium including 45kr corresponding to the Austrian-German Convention fee, and 30kr for the Belgian portion of the journey. On reverse showing ms "30" kreuzer credited to Belgium or "f10", being the same credit but in silbergroschen. This fascinating item is being offered for the first time at auction in this sale.
Please note that we are still working on adding images for the lots. If the lot you are interested in does not have images available yet, we invite you to check again in a few days.
If you still cannot find the images you are looking for in a few days, please send us a message. Important: don't forget to mention the lot number(s).
Thank you for your understanding.
Loggen Sie sich in Ihr Konto ein