Los 60067 –
1884 10s Ultramarine mint nh lower left corner marginal block of six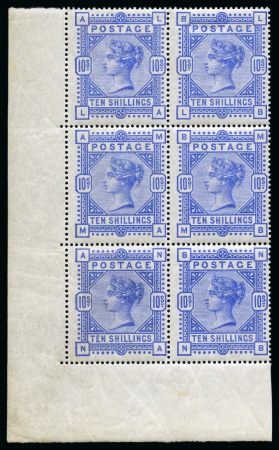 Los 60067 –
1884 10s Ultramarine mint nh lower left corner marginal block of six
Great Britain » 1855-1900 Surface Printed » 1883-84 & 1888 High Values
Realisierter Preis
Unverkauft
Schätzung
4'800 – 8'000 EUR
Auktionsdatum
Do. 6 Jun 2019 at 18:00 (Europe/Zurich)
1884 10s Ultramarine mint nh lower left corner marginal block of six, some light gum wrinkling as to be expected nevertheless an outstanding multiple of the highest quality, lovely deep vibrant colour, very rare so fine (SG £13'500+ in 2019)
1884 10s Ultramarine. Exceptionally fine and fresh unmounted o.g. bottom left hand corner marginal block of six lettered LA-NB. Some light gum wrinkling as to be expected nevertheless an outstanding multiple of the highest quality. Lovely deep vibrant colour, very rare so fine.
Please note that we are still working on adding images for the lots. If the lot you are interested in does not have images available yet, we invite you to check again in a few days.
If you still cannot find the images you are looking for in a few days, please send us a message. Important: don't forget to mention the lot number(s).
Thank you for your understanding.
Loggen Sie sich in Ihr Konto ein