Los 21090 –
1917-1924, Parcel Post, values from 10 to 20 lire in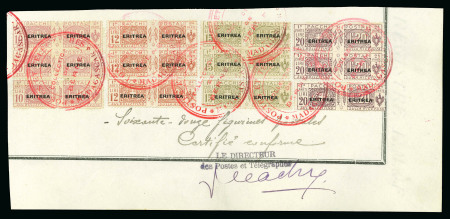 Los 21090 –
1917-1924, Parcel Post, values from 10 to 20 lire in
Italy » Italian Colonies and Possessions » Eritrea
Realisierter Preis
Unverkauft
Auktionsdatum
Di. 14 Jun 2022 at 09:30 (Europe/Zurich)
1917-1924, Parcel Post, values from 10 to 20 lire in blocks of six on part archival document, clearly canceled in red with "Poste et Telegraphe / Madagascar / Collection de Berne" stamps, rare UPU specimen.
1917-24 Parcel Post 10L to 20L four values in blocks of six all neatly tied on part document by POSTES ET TELEGRAPHES/MADAGASCAR/COLLECTION DE BERNE cachets in red, an very fine and rare UPU specimen item
Please note that we are still working on adding images for the lots. If the lot you are interested in does not have images available yet, we invite you to check again in a few days.
If you still cannot find the images you are looking for in a few days, please send us a message. Important: don't forget to mention the lot number(s).
Thank you for your understanding.
Loggen Sie sich in Ihr Konto ein