Los 20080 –
Affrancatura RSI non tollerata e tollerata da due uffici diversi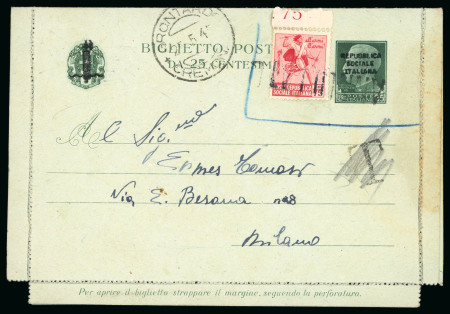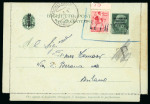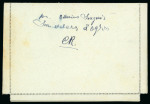 Los 20080 –
Affrancatura RSI non tollerata e tollerata da due uffici diversi
Italy » Repubblica Sociale Italiana
Realisierter Preis
Unverkauft
Auktionsdatum
Di. 14 Jun 2022 at 09:30 (Europe/Zurich)
1945, biglietto postale da 25 c. del 25.5 da Contardo per Milano, con affr. aggiuntiva da 75 c.; soprastampe RSI non ritenute valide dall'ufficio di Contardo, e segna l'affrancatura con matita blu e la rende inutilizzabile con il bollo "Annullato", con "T" di tassa a lato, che fu invece cancellata a Milano, dove l'affrancatura venne invece tollerata.
Please note that we are still working on adding images for the lots. If the lot you are interested in does not have images available yet, we invite you to check again in a few days.
If you still cannot find the images you are looking for in a few days, please send us a message. Important: don't forget to mention the lot number(s).
Thank you for your understanding.
Loggen Sie sich in Ihr Konto ein