Los 20046 –
1900 (dopo il), Cooperativa Fattorini, busta con timbro del "Nuovo Corriere di Città"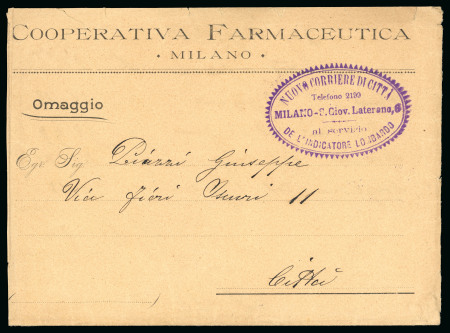 Los 20046 –
1900 (dopo il), Cooperativa Fattorini, busta con timbro del "Nuovo Corriere di Città"
Italy » Corrieri di Milano
Realisierter Preis
Unverkauft
Auktionsdatum
Di. 14 Jun 2022 at 09:30 (Europe/Zurich)
1900 (dopo il), Cooperativa Fattorini, busta (Leggermente ridotta su due lati) per città con bella impronta del timbro ovale viola "Nuovo Corriere di Città/Telefono 2199/Milano-S.Giov.Laterano,6″al servizio/De l'Indicatore Lombardo". In seguito ad un intervento delle poste, viene impedito alla Cooperativa Fattorini l'uso delle apposite marche; pertanto, dopo questa "intromissione", sugli oggetti trasportati figurano solo i timbri del corriere. Raro.
Please note that we are still working on adding images for the lots. If the lot you are interested in does not have images available yet, we invite you to check again in a few days.
If you still cannot find the images you are looking for in a few days, please send us a message. Important: don't forget to mention the lot number(s).
Thank you for your understanding.
Loggen Sie sich in Ihr Konto ein