Los 20003 –
1861-62, giornale e fascetta affrancati con emissioni di Sardegna e Regno "cifra in rilievo"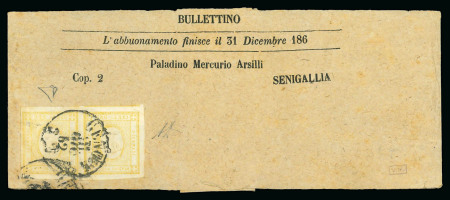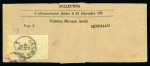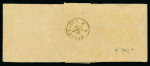 Los 20003 –
1861-62, giornale e fascetta affrancati con emissioni di Sardegna e Regno "cifra in rilievo"
Italy » Regno d'Italia
Realisierter Preis
200 EUR
Auktionsdatum
Di. 14 Jun 2022 at 09:30 (Europe/Zurich)
1861-62, "Giornale di Medicina Militare del Corpo Sanitario dell'Armata Italiana" affrancato con Sardegna "cifra in rilievo" 2 c. annullato a Torino, e fascetta per periodici per Senigallia affrancata con coppia del nuovo valore "cifra in rilievo" del Regno da 2 c. con annullo di Genova (firmata A. ed Enzo Diena).
:
Sassone 10, (Sardegna) 20
Please note that we are still working on adding images for the lots. If the lot you are interested in does not have images available yet, we invite you to check again in a few days.
If you still cannot find the images you are looking for in a few days, please send us a message. Important: don't forget to mention the lot number(s).
Thank you for your understanding.
Loggen Sie sich in Ihr Konto ein