Los 60478 –
1868-79 3d on 4d deep ultramarine with surcharge omitted error in rejoined unused vertical pair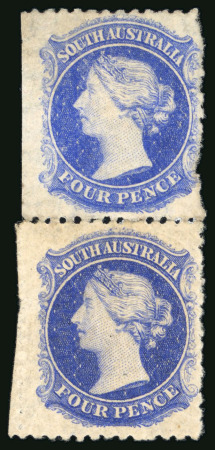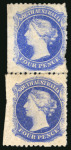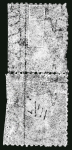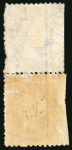 Los 60478 –
1868-79 3d on 4d deep ultramarine with surcharge omitted error in rejoined unused vertical pair
Australia » South Australia
Realisierter Preis
Unverkauft
Schätzung
200'000 – 250'000 GBP
Auktionsdatum
Fr. 17 Jun 2022 at 10:00 (Europe/Zurich)
1868-79 "3 PENCE" on 4d deep ultramarine with surcharge omitted error in rejoined unused vertical pair from the left of the sheet, showing the lower portion of "OSTAG" of the marginal wmk "POSTAGE" with line underneath at left (see enhanced and mirrored detail of the reverse).
Condition
Blind perfs at left and both with trimmed margins as a result with the upper stamp trimmed into, top stamp with no gum, thin spot, slight defect at top right corner and roughly separated at right, lower stamp with original gum and in a slightly deeper shade than the stamp above due to being less exposed in the ca.150 years since they were first separated and only recently rejoined. The pair has been rejoined by three small hinges and is ever so slightly misaligned so the perfs don't quite match up but evidently belonged together with the alignment of the watermark.
Rarity
Only two unused examples of this error exist in private hands, with the only other in the Royal Collection (which was in a horizontal pair with the lower stamp when bought by S.G. in 1901). Only 11 used examples are recorded of which seven are in private hands. It was first reported in the "Philatelic Record" in October 1879 and listed by Stanley Gibbons in 1892. Today it is catalogued by Stanley Gibbons at £50'000 unused and £55'000 for used, which given the number of used examples on the market it seems that the unused catalogue value is significantly undervalued. The last used example sold was in the Gary Diffen collection in April 2020 and realised £40'000 (hammer).
Comparable in rarity to the famous "Inverted Swan" error of Western Australia of which only seven examples, all used, remain in private hands. Stanley Gibbons gives it a catalogue value of £180'000. The last example offered at auction sold for CHF290'400 (incl. buyer's premium) in the Besançon collection in 2018, which was just under £220'000 at the time.
The great rarity of South Australia and one of the famous errors of Australian and indeed British Empire philately.
Provenance
Top example: Ex Ernest Brown, Colonel Harry Napier, John Griffiths, Barton Sparrow and Michael Blake.
Lower example: Ex Ferrary (Sale 7 lot 107), Caspary and Boker.
Please note that we are still working on adding images for the lots. If the lot you are interested in does not have images available yet, we invite you to check again in a few days.
If you still cannot find the images you are looking for in a few days, please send us a message. Important: don't forget to mention the lot number(s).
Thank you for your understanding.
Loggen Sie sich in Ihr Konto ein