Los 10049 –
The Famous Ferrary Tete-Beche Pair: 5pi yellow-green, perf. 12 1/2 x 13 1/3, mint vertical TÊTE-BÊCHE pair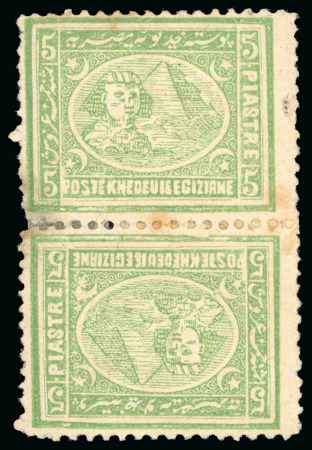 Los 10049
Egypt » 1872-75 Penasson
Realisierter Preis
17'000 EUR
Auktionsdatum
Mon 13 Jun 2022 at 15:00 (Europe/Zurich)
Beschreibung:
The Famous Ferrary Tête-bêche Pair
5pi yellow-green, perf. 12 1/2 x 13 1/3, mint vertical TÊTE-BÊCHE pair from position 87/97, with position 97 being the inverted cliché which additionally shows an inverted wmk and damaged frameline at bottom, a unique error.
One of the greatest Egyptian rarities.
Provenance: Ferrary, Chafter, Kuyas and Peter Smith.
Loggen Sie sich in Ihr Konto ein