Los 10048 –
5pi yellow-green, tied on small neat envelope from Cairo to USA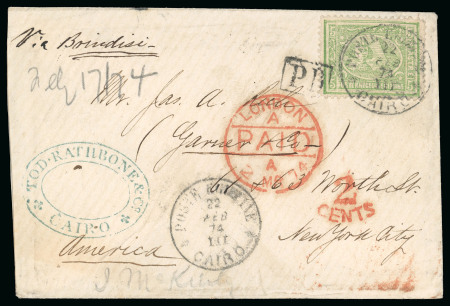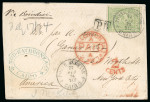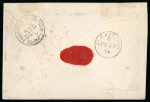 Los 10048
Egypt » 1872-75 Penasson
Realisierter Preis
5'000 EUR
Auktionsdatum
Mon 13 Jun 2022 at 15:00 (Europe/Zurich)
Beschreibung:
5pi yellow-green, tied on small neat envelope from Cairo via Brindisi, Alexandria & London, to New York City, America, by POSTE EGIZIANE/CAIRO/22.FEB.1874 cds, with London transit alongside and Alexandria British PO bs, a fine and extremely rare usage paying the 1pi internal rate and the 4pi overseas rate as per the Anglo-Egyptian postal convention of July 1, 1873.
An important exhibition showpiece and one of only two covers recorded with the 5pi value.
Provenance: Peter Smith.
Loggen Sie sich in Ihr Konto ein