Los 1100 –
1840 2d Blue pl.2 OC on 1841 (Dec 29) mourning lettersheet from Galway (Ireland) to London, tied by neat black Maltese Cross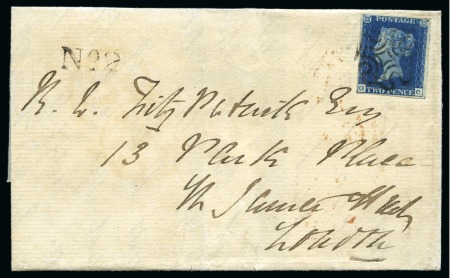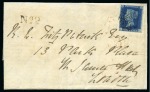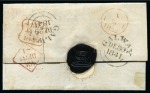 Los 1100 –
1840 2d Blue pl.2 OC on 1841 (Dec 29) mourning lettersheet from Galway (Ireland) to London, tied by neat black Maltese Cross
Great Britain » 1840 2d Blue (ordered by plate number)
Realisierter Preis
800 GBP
Schätzung
950 – 1'100 GBP
Auktionsdatum
Di. 21 Sep 2021 at 11:00 (Europe/Zurich)
1840 2d Blue pl.2 OC, fine to very good margins, on 1841 (Dec 29) mourning lettersheet from Galway (Ireland) to London, tied by neat black Maltese Cross, with "No. 2" receiving house hs adjacent, reverse with Galway, Dublin and London ds with complete black wax seal, a very fine and scarce Irish usage, ex Lady Mairi Bury.
Please note that we are still working on adding images for the lots. If the lot you are interested in does not have images available yet, we invite you to check again in a few days.
If you still cannot find the images you are looking for in a few days, please send us a message. Important: don't forget to mention the lot number(s).
Thank you for your understanding.
Loggen Sie sich in Ihr Konto ein