Los 1016 –
1840 (May 7) Entire from London to Bath bearing a 1d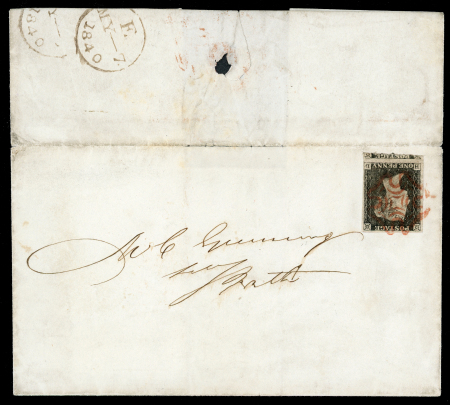 Los 1016 –
1840 (May 7) Entire from London to Bath bearing a 1d
Great Britain » 1840 1d Black "May Dates"
Realisierter Preis
Zurückgezogen
Schätzung
5'000 – 6'000 GBP
Auktionsdatum
Di. 21 Sep 2021 at 11:00 (Europe/Zurich)
1840 (May 7) Entire from London to Bath bearing a 1d black, HD plate 2, clear to large margins, portion of the adjoining stamp at base, well tied by a red Maltese Cross, two London backstamps, one clearly dated MY 7, the other with unclear day but possibly MY 6?, a little splitting to upper fold. A very scarce second day use, ex Robson Lowe sale 1948 (Sep 29 auction, lot 122), with 'Basel' Expert Certificate (2003, signed by Bach & Eichele).
Please note that we are still working on adding images for the lots. If the lot you are interested in does not have images available yet, we invite you to check again in a few days.
If you still cannot find the images you are looking for in a few days, please send us a message. Important: don't forget to mention the lot number(s).
Thank you for your understanding.
Loggen Sie sich in Ihr Konto ein