Los 10005 –
1834 (21.12) Folded entire from the British Consulate in Tehran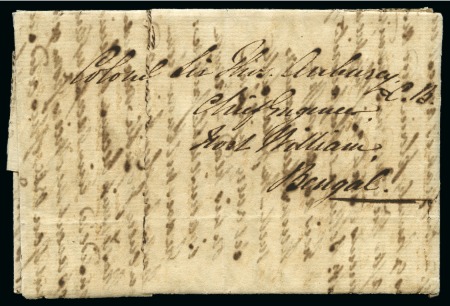 Los 10005 –
1834 (21.12) Folded entire from the British Consulate in Tehran
Persia » Postal History
Realisierter Preis
600 EUR
Auktionsdatum
Mo. 30 Nov 2020 at 14:00 (Europe/Zurich)
1834 (21.12) Folded entire from the British Consulate in Tehran to Colonel Asbury, Chief Engineer, Fort William, Bengal, dated lined "Teheran, December 21, 1834", content regards shipment of arms to East Persia (Afghanistan), no postal markings, in need of repair because of heavy splitting along folds, but a scarce early cover from Tehran.
Please note that we are still working on adding images for the lots. If the lot you are interested in does not have images available yet, we invite you to check again in a few days.
If you still cannot find the images you are looking for in a few days, please send us a message. Important: don't forget to mention the lot number(s).
Thank you for your understanding.
Loggen Sie sich in Ihr Konto ein