Los 10037 –
1926 International Navigation Congress registered cover with variety on 15m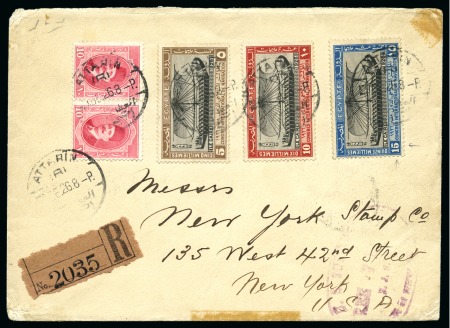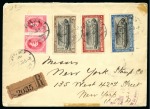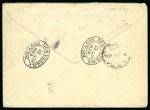 Los 10037 –
1926 International Navigation Congress registered cover with variety on 15m
Egypt » Commemoratives 1914-1953
Realisierter Preis
190 EUR
Auktionsdatum
Mo. 9 Dez 2019 at 15:00 (Europe/Zurich)
1926 International Navigation Congress (9.12) registered cover sent on First Day of the International Navigation Congress, franked 5m, 10m and 15m Congress stamps and a pair of First King Fouad 10m, the 15m has the loop of the "5" in "15" closed (the 10th stamp of every other pane, NP C16a), this cover is believed to be unique with this plate flaw.
Provenance: C. F. Hass
Please note that we are still working on adding images for the lots. If the lot you are interested in does not have images available yet, we invite you to check again in a few days.
If you still cannot find the images you are looking for in a few days, please send us a message. Important: don't forget to mention the lot number(s).
Thank you for your understanding.
Loggen Sie sich in Ihr Konto ein