Los 40500 –
Lettre datée de Maestricht 10 septembre 1841 pour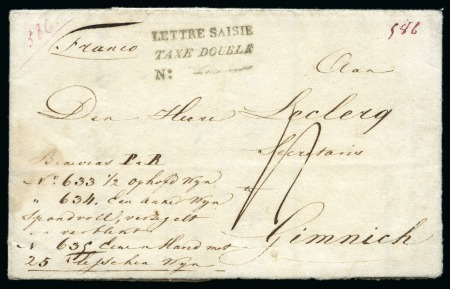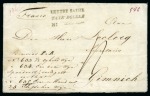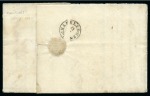 Los 40500 –
Lettre datée de Maestricht 10 septembre 1841 pour
Belgium » Belgique. Histoire Postale
Realisierter Preis
950 EUR
Auktionsdatum
Mi. 11 Dez 2019 at 13:30 (Europe/Zurich)
1841 Lettre datée de Maestricht 10 septembre 1841 pour arrivée T18 HENRI-CHAPELLE avec marque LETTRE SAISIE/TAXE DOUBLE/ N: "586" et port "4". L'expéditeur a tenté de ne pas payer le port en indiquant "Franco" et en faisant croire que la lettre était une facture accompagnant un colis. La lettre a été interceptée par l'administration et est tombée sous l'application de la circulaire des postes N48 du 9 avril 1833 pour transport illicite de courrier. Le port était de 2 décimes entre Maestricht et Gemmenich. la taxe pour fraude étant double, le tarif est donc de 4 décimes. Grande rareté de la préphilatélie de Belgique. C'est à notre connaissance une des seules, si pas la seule pièce connue dans une qualité luxe.
Please note that we are still working on adding images for the lots. If the lot you are interested in does not have images available yet, we invite you to check again in a few days.
If you still cannot find the images you are looking for in a few days, please send us a message. Important: don't forget to mention the lot number(s).
Thank you for your understanding.
Loggen Sie sich in Ihr Konto ein