Los 10065 –
1876 1 Kran carmine, on laid paper, selection of sixteen used singles or pairs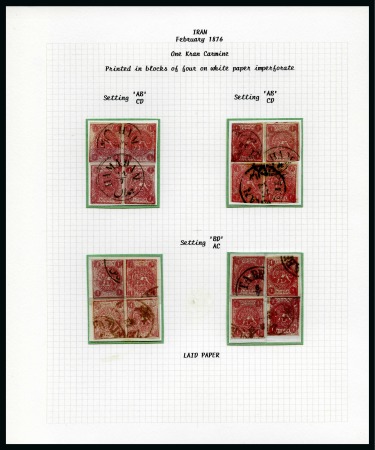 Los 10065 –
1876 1 Kran carmine, on laid paper, selection of sixteen used singles or pairs
Persia » 1868-1879 Nasr ed-Din Shah Lion Issues » 1876 Narrow Spacing (SG 15-19) (Persiphila 13-17)
Realisierter Preis
Unverkauft
Schätzung
1'600 – 2'400 EUR
Auktionsdatum
Di. 27 Jun 2017 at 12:00 (Europe/Zurich)
1876 1kr carmine, on laid paper, selection of sixteen used singles or pairs, showing reconstructions of setting AB/CD and BD/AC, some usual small faults, showing array of shades, generally fresh and a very fine group, all neatly mounted and written up on exhibition page (16) (Persiphila $14'640).
Please note that we are still working on adding images for the lots. If the lot you are interested in does not have images available yet, we invite you to check again in a few days.
If you still cannot find the images you are looking for in a few days, please send us a message. Important: don't forget to mention the lot number(s).
Thank you for your understanding.
Loggen Sie sich in Ihr Konto ein