Los 10287 –
1900 Envelope sent registered to St. Petersburg fr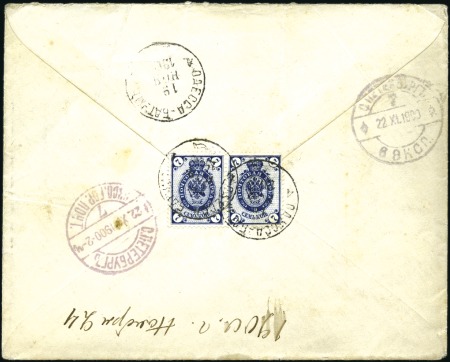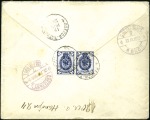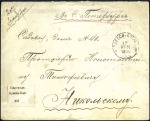 Los 10287 –
1900 Envelope sent registered to St. Petersburg fr
Russia » Ship Mail » Ship Mail in the Black Sea
Realisierter Preis
1'200 EUR
Auktionsdatum
Sa. 3 Dez 2016 at 10:00 (Europe/Zurich)
1900 Envelope sent registered to St. Petersburg franked on the reverse by 7k pair cancelled on ship by "ODESSA-BATUM / 4" 19 Nov 1900 cds (with posthorns at foot), obverse with white "STEAMSHIP / ODESSA – BAT(UM)" registration label, arrival bs, a rare use of the primitive registered labels which were used only for a short time at the turn of the 19th Century.
Please note that we are still working on adding images for the lots. If the lot you are interested in does not have images available yet, we invite you to check again in a few days.
If you still cannot find the images you are looking for in a few days, please send us a message. Important: don't forget to mention the lot number(s).
Thank you for your understanding.
Loggen Sie sich in Ihr Konto ein