Los 10282 –
1897 Envelope from the French Companie des Message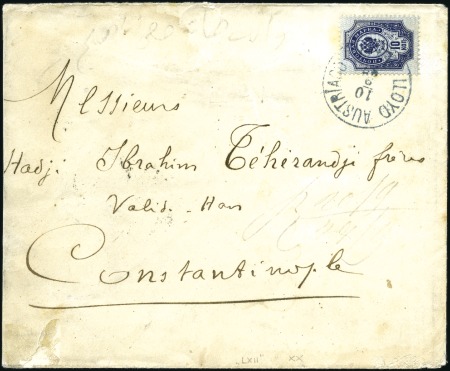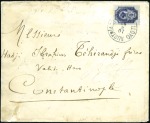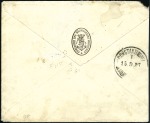 Los 10282 –
1897 Envelope from the French Companie des Message
Russia » Ship Mail » Ship Mail in the Black Sea
Realisierter Preis
Unverkauft
Auktionsdatum
Sa. 3 Dez 2016 at 10:00 (Europe/Zurich)
1897 Envelope from the French Companie des Messageries Maritime (logo on backflap), evidently from Batum, sent to Constantinople with 10k tied by blue "LLOYD AUSTRIACO / LXIX" 10 9 97 cds, with Austrian Constantinople arrival bs, minor soiling, fine LXIX was the number allocated to S.S. Vesta between the years 1891 to 1901. She was a vessel of 1820 tons built in 1869 and operated mainly on the slow line Trieste-Constantinople-Batum and back. Withdrawn from service in 1907.
Please note that we are still working on adding images for the lots. If the lot you are interested in does not have images available yet, we invite you to check again in a few days.
If you still cannot find the images you are looking for in a few days, please send us a message. Important: don't forget to mention the lot number(s).
Thank you for your understanding.
Loggen Sie sich in Ihr Konto ein