Los 10258 –
1855 CRIMEA: 1855 Envelope with contents datelined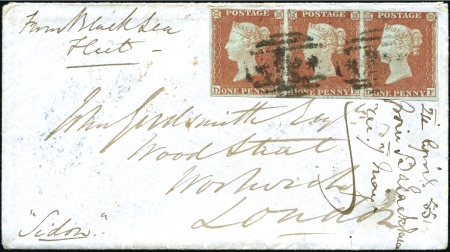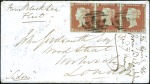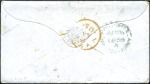 Los 10258 –
1855 CRIMEA: 1855 Envelope with contents datelined
Russia » Ship Mail » Ship Mail in the Black Sea
Realisierter Preis
1'000 EUR
Auktionsdatum
Sa. 3 Dez 2016 at 10:00 (Europe/Zurich)
1855 CRIMEA: 1855 Envelope with contents datelined April 24 from Captain George Goldsmith of "(H.M.S.) Sidon at Balaklava" to London endorsed "From Black Sea Fleet" and "Sidon" with GB full margined strip of 3 imperf 1d reds cancelled by fine/very fine (for this) cancels, just tied by the recipient's filing endorsement, backstamped POST OFFICE/BRITISH ARMY with small blue 'A' code. The contents relate to the writer's recent arrival by ship to Cephalonia and the new railway that accelerates the unloading.Highly attractive cover and exceedingly scarce with the imperf franking and crown cancel. Illustrated in CWS 1997, p21/22.
Please note that we are still working on adding images for the lots. If the lot you are interested in does not have images available yet, we invite you to check again in a few days.
If you still cannot find the images you are looking for in a few days, please send us a message. Important: don't forget to mention the lot number(s).
Thank you for your understanding.
Loggen Sie sich in Ihr Konto ein