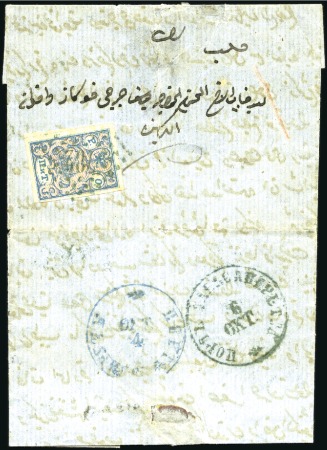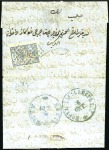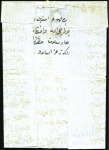 Russia » Ship Mail » Ship Mail in the Levant
Realisierter Preis
2'400 EUR
Auktionsdatum
Sa. 3 Dez 2016 at 10:00 (Europe/Zurich)
1865-67 2pi Blue and rose tied on opened out small lettersheet in Arabic by numeral '782' in blue in truncated triangle of dots (Tchil. Type 2) with complementary PORT ALEKSANDRETTA cds (Tchil. Type 3) on reverse, alongside PORT BEIRUT cds (Tchil. Subtype 3B), both in blue. Adhesive with clear to large margins. Ex Arsman.
Please note that we are still working on adding images for the lots. If the lot you are interested in does not have images available yet, we invite you to check again in a few days.
If you still cannot find the images you are looking for in a few days, please send us a message. Important: don't forget to mention the lot number(s).
Thank you for your understanding.
Loggen Sie sich in Ihr Konto ein