Los 10087 –
1874 Entire from St. Petersburg to Sweden endorsed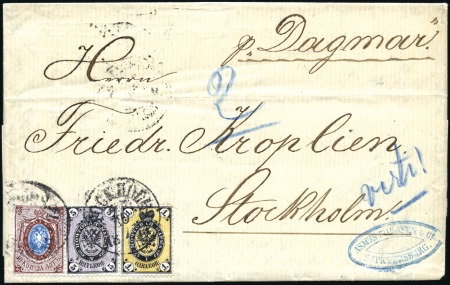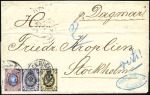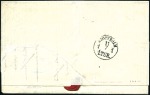 Los 10087 –
1874 Entire from St. Petersburg to Sweden endorsed
Russia » Ship Mail » Ship Mail in the Gulf of Finland
Realisierter Preis
600 EUR
Auktionsdatum
Sa. 3 Dez 2016 at 10:00 (Europe/Zurich)
1874 Entire from St. Petersburg to Sweden endorsed per "Dragmar", franked 1866-75 1k, 5k and 10k Arms, cancelled on arrival in Stockholm, very fine and attractive franking The "Dagmar" was built in Sweden in 1866 for the Dagmar Steamship Co.. A twin-funnel paddle steamer 200 feet in length, she operated on the route Stockholm, Abo, Helsinki, Viborg, St. Petersburg. Sold in 1878 to a Russian company who maintained her on the Finnish coastal route.
Please note that we are still working on adding images for the lots. If the lot you are interested in does not have images available yet, we invite you to check again in a few days.
If you still cannot find the images you are looking for in a few days, please send us a message. Important: don't forget to mention the lot number(s).
Thank you for your understanding.
Loggen Sie sich in Ihr Konto ein