Los 10082 –
1841 Entire to London with endorsement for conveya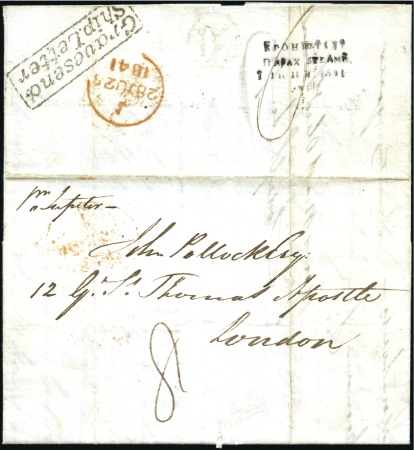 Los 10082 –
1841 Entire to London with endorsement for conveya
Russia » Ship Mail » Ship Mail in the Gulf of Finland
Realisierter Preis
Unverkauft
Auktionsdatum
Sa. 3 Dez 2016 at 10:00 (Europe/Zurich)
1841 Entire to London with endorsement for conveyance by steamship "Jupiter" with three-line "KRONSHTADT / PARAKH. STEAMER" 7 6 1841 ds, with "Gravesend /Ship Letter" boxed hs and London arrival, fine An example of an "anti-bootleg" mark applied at Kronshtadt to indicate and reassure ship's inspectors that postage had been paid.
Please note that we are still working on adding images for the lots. If the lot you are interested in does not have images available yet, we invite you to check again in a few days.
If you still cannot find the images you are looking for in a few days, please send us a message. Important: don't forget to mention the lot number(s).
Thank you for your understanding.
Loggen Sie sich in Ihr Konto ein