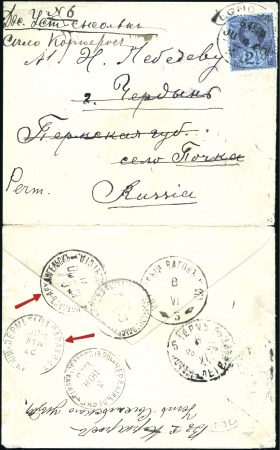 Russia » Ship Mail » Ship Mail in the Arctic and Northern Russia- River Mail
Realisierter Preis
3'200 EUR
Auktionsdatum
Sa. 3 Dez 2016 at 10:00 (Europe/Zurich)
RIVER NORTHERN DVINA: 1900 Incoming opened-out cover from London franked QV 2 1/2d Jubilee addressed to village near Cherdyn, Perm, redirected to village in Ustsysolsk District (Vologda). Tansit marks include two different river mail boat services: STEAMSHIP NIZHNII-PERM (9) 27 May 1900 (rivers Volga/Kama) Cherdyn 3 June, Perm 6 June, Postal Wagon No. 219 (3) PERM-KOTLAS 6 June KOTLAS -ARKHANGELSK/1/IInd STEAMSHIP POSTAL BRANCH 8 June (River Northern Dvina), Ustsysolsk 12 June. This cover represents the earliest known date for Northern Dvina mail-boat service and only known example of circular Kotlas-Arkhangelsk IInd Steamship cancellation.
Please note that we are still working on adding images for the lots. If the lot you are interested in does not have images available yet, we invite you to check again in a few days.
If you still cannot find the images you are looking for in a few days, please send us a message. Important: don't forget to mention the lot number(s).
Thank you for your understanding.
Loggen Sie sich in Ihr Konto ein