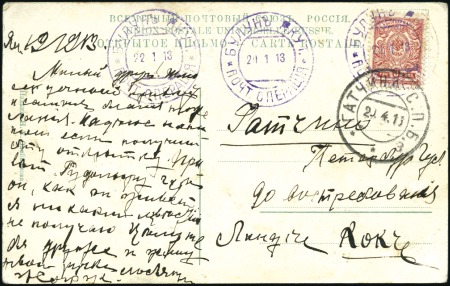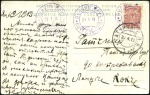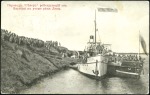 Russia » Ship Mail » Ship Mail in the Arctic and Northern Russia- River Mail
Realisierter Preis
650 EUR
Auktionsdatum
Sa. 3 Dez 2016 at 10:00 (Europe/Zurich)
RIVER LENA: 1913 Viewcard of Steamship "SEVER" which operated along the River Lena from Yakutsk northwards to the Lena delta on the Laptev Sea (Arctic Ocean), serving settlements in the remote Siberian Arctic. Addressed to Gatchina, St Petersburg, Jan 19 1913. franked 3k, tied by violet cds: BULUN' YAKUTSK / POSTAL OPERATIONS 20 1 13. A further impression added 2 days later. Gatchina arrival 20 4 13. Bulun was a settlement on the River Lena about 500 km within the Arctic Circle and 1200 km down river from Yakutsk. Mail was taken in and out by ship. The delivery time of three months reflects the transport difficulties during the Siberian winter.
Please note that we are still working on adding images for the lots. If the lot you are interested in does not have images available yet, we invite you to check again in a few days.
If you still cannot find the images you are looking for in a few days, please send us a message. Important: don't forget to mention the lot number(s).
Thank you for your understanding.
Loggen Sie sich in Ihr Konto ein