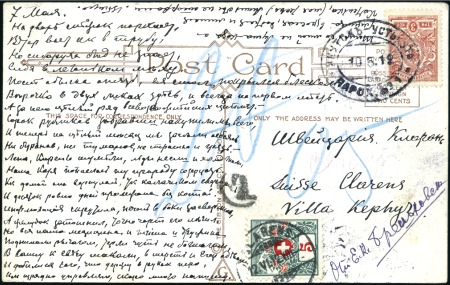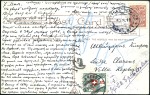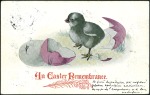 Russia » Ship Mail » Ship Mail in the Arctic and Northern Russia- River Mail
Realisierter Preis
Unverkauft
Auktionsdatum
Sa. 3 Dez 2016 at 10:00 (Europe/Zurich)
RIVER LENA: 1912 Viewcard to Switzerland franked 3k cancelled on River Lena ship service YAKUTSK-USTKUTA STEAMSHIP No. 1 10 5 12. Underpaid 1k, encircled 'T' applied and Swiss 5c postage due applied and cancelled on arrival in Clarens The card was sent by the political dissident Ekaterina Breshkovskaya. " The Little Grandmother of the Revolution" who spent most of her life in Siberian exile. After her last arrest she was sent to Kerensk, on the river Lena (1910-13). then moved around various Siberian prisons until released by the Bolsheviks in 1917. The card was to George Lazareff, a Russian political exile who sent her money.
Please note that we are still working on adding images for the lots. If the lot you are interested in does not have images available yet, we invite you to check again in a few days.
If you still cannot find the images you are looking for in a few days, please send us a message. Important: don't forget to mention the lot number(s).
Thank you for your understanding.
Loggen Sie sich in Ihr Konto ein