Los 10014 –
1683 (Oct 3) Folded letter from a Dutch trader at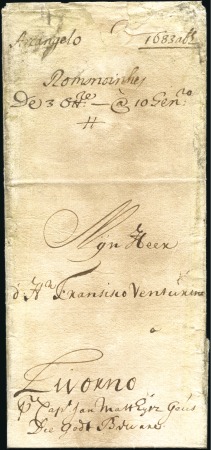 Los 10014 –
1683 (Oct 3) Folded letter from a Dutch trader at
Russia » Ship Mail » Ship Mail in the Arctic and Northern Russia – Sea Mail
Realisierter Preis
1'900 EUR
Auktionsdatum
Sa. 3 Dez 2016 at 10:00 (Europe/Zurich)
1683 (Oct 3) Folded letter from a Dutch trader at Archangel to Livorno, carried by ship of Captain Jan Matthyes Gens "Die Godt Bewaner", off-loaded probably at Hamburg or similar and then by horse-post, a journey of 13 weeks, fine The White Sea harbour of Archangel (Russian Arkhangelsk) was discovered by an English trading expedition in 1553. The English Muscovy Company opened the first trading station in 1598 and it was the only Russian seaport until the building of St. Petersburg in 1703. It was only open to shipping from May to September/early October due to ice the rest of the year.
Please note that we are still working on adding images for the lots. If the lot you are interested in does not have images available yet, we invite you to check again in a few days.
If you still cannot find the images you are looking for in a few days, please send us a message. Important: don't forget to mention the lot number(s).
Thank you for your understanding.
Loggen Sie sich in Ihr Konto ein