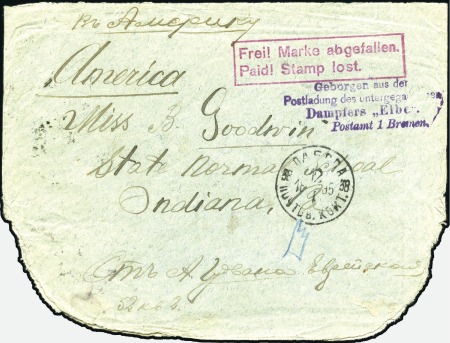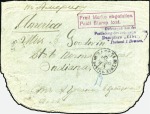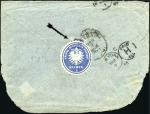 Russia » Ship Mail » Ship Mail to and from America
Realisierter Preis
550 EUR
Auktionsdatum
Sa. 3 Dez 2016 at 10:00 (Europe/Zurich)
1895 Cover from Odessa to Indiana salvaged from the wreck of s.s.Elbe, sunk in the North Sea 30 January 1895 while bound for New York from Bremen. Cover damaged by seawater. Violet cachet at top right indicates in German: MAIL RETRIEVED FROM WRECK OF STEAMER "ELBE", surmounted by framed bilingual cachet in red: PAID! STAMP LOST. Despite this, 10k Russian stamp can be seen protruding from under Bremen P.O. blue & white label on reverse. Odessa cds alongside. Backstamped New York transit and Indiana arrival. The German "Elbe" was rammed by the Cunard liner "Craithie" while traversing the North Sea and sank about 45 miles from Lowestoft with loss of 334 lives. Some mailbags were picked up by fishermen, others were washed ashore. All were returned to Bremen, where cachets and labels were applied before reposting.
Please note that we are still working on adding images for the lots. If the lot you are interested in does not have images available yet, we invite you to check again in a few days.
If you still cannot find the images you are looking for in a few days, please send us a message. Important: don't forget to mention the lot number(s).
Thank you for your understanding.
Loggen Sie sich in Ihr Konto ein