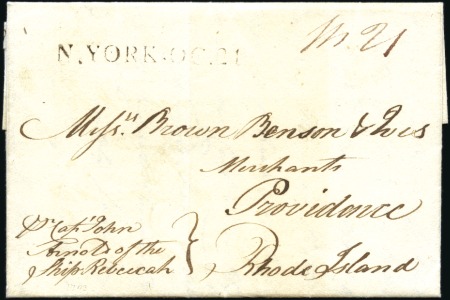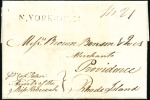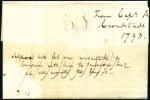 Russia » Ship Mail » Ship Mail to and from America
Realisierter Preis
Unverkauft
Auktionsdatum
Sa. 3 Dez 2016 at 10:00 (Europe/Zurich)
1793 Folded letter from Capt. William Rodman of the ship "Hamilton", lying at Kronshtadt, sent through Capt. John Arnold of the ship "Rebeccah" to Providence, Rhode Island, USA. Forwarded through regular U.S. mail from New York Oc. 21. rated "sh 21" in top right corner = Ship 21 cents (ship fee 4 cents + 17 cents for domestic postage). Letter opens: "Capt. John Arnold will be the bearer of this. He sails the first wind and touches at the City of Copenhagen" Recorded "Rossica" 61 (1961), p.10.
Please note that we are still working on adding images for the lots. If the lot you are interested in does not have images available yet, we invite you to check again in a few days.
If you still cannot find the images you are looking for in a few days, please send us a message. Important: don't forget to mention the lot number(s).
Thank you for your understanding.
Loggen Sie sich in Ihr Konto ein