Los 1 –
The 1847 Mauritius "Post Office" Issue Printing Pl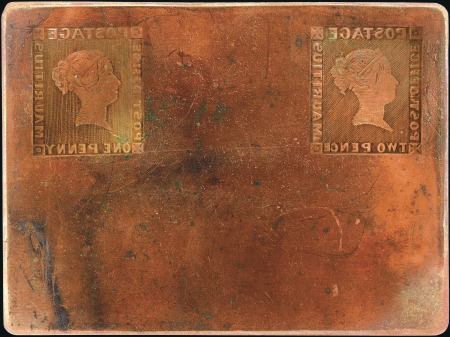 Los 1 –
The 1847 Mauritius "Post Office" Issue Printing Pl
Mauritius
Realisierter Preis
1'100'000 EUR
Auktionsdatum
Do. 1 Dez 2016 at 18:00 (Europe/Zurich)
The 1847 Mauritius "Post Office" Issue Printing Plate Mauritius "Post Office" issue printing plate: intaglio (as opposite to relief) printing plate in copper, 81.05×60.6mm, with a weight of 46g, showing single cliché of the 1d and 2d values each measuring 20.4×23.6mm with a separation of 31mm between engravings; both values showing the inscription "POST OFFICE" "POSTAGE" "MAURITIUS" and either "ONE PENNY" or "TWO PENCE" bordering a portrait of Queen Victoria, with background shading of vertical and diagonal lines (approx. 50 degrees CCW or CW respectively). Condition: It is said to have been bent at one time and thought to have been straightened (as it is currently) in the 1880s. The plate shows some oxidisation and ink remainders (likely from later reprints). Notable marks made (whether intentionally or by accident) since its use in 1847 include the following: – 1d: Small dot in the lower right corner ornament (probably from 1912) – 2d: Vertical scratch through "POST OFFICE" (occurred before the first reprints) – 2d: Horizontal score in the lower right corner ornament from 1912 PROVENANCE: 1847 Colonial Government of Mauritius – Mauritius Postmaster General Between 1874 and 1882 Dominic Henry Colnaghi (according to his own statement to the Commission of enquiry set up in 1914 by the Colonial Office on request of the government of Mauritius, he got it as a gift from an aunt). 1912 Nevile Stocken (bought it in London from Colnaghi for a "consideration in cash" 1912 David Field (unknown price) 1912 Sydney Loder (unknown price) 1930 (?) Maurice Burrus (unknown price) 1959 (?) Odile Burrus (bequeathed from his uncle, Maurice Burrus) 2013 Burrus Family (Heirs of Odile Burrus) EXHIBITIONS 1912, Oct 14-19 Jubilee International Stamp Exhibition, London 1913, Oct 27-Nov 1 New York Philatelic International Exhibition 1930, Sept 12-21 Berlin Philatelic Exhibition (IPOSTA) 1935, May 6-11 Royal Jubilee Exhibition of British Empire Stamps of the Victorian Era 2015, May 13-16 Europhilex London 2015 2015, Aug 14-19 Singapore World Stamp Exhibition 2015, Dec 2-5 Monacophil 2015 2016, May 28-Jun 4 New York International Stamp Show EXPERTISE 2016 RPSL Certificate The plate has been certified as being authentic by the Expert Committee of the Royal Philatelic Society in London. 2015-16 David Feldman SA has made comparative studies between the plate and some of the original (certified) stamps printed with it in 1847 and reprints made in 1912 through digital imagery analysis, including: – Ultra-high definition scanning – Macro photography – Precision digital measurement and sectioning – Semi-transparent foregrounds and superimposition These analysis have proven that the stamps tested (Nos. 1, 6, 7, 8, 13, 21, 23 and 24 – as per L. N. & M. Williams numbering system), were undoubtedly printed with the plate. The tests also helped to corroborate that the plate was marked after its original use.
Please note that we are still working on adding images for the lots. If the lot you are interested in does not have images available yet, we invite you to check again in a few days.
If you still cannot find the images you are looking for in a few days, please send us a message. Important: don't forget to mention the lot number(s).
Thank you for your understanding.
Loggen Sie sich in Ihr Konto ein