Los 30011 –
Unissued 1500m value plus 250m-1000m in colours ap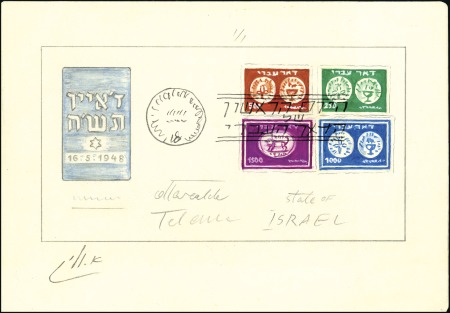 Los 30011 –
Unissued 1500m value plus 250m-1000m in colours ap
Israel » Israel 1948 "Doar Ivri" Artist's Drawings
Realisierter Preis
Wird noch veröffentlicht
Auktionsdatum
Do. 13 Jun 2013 at 15:00 (Europe/Zurich)
Unissued 1500m value plus 250m-1000m in colours approximating the issued, artist's drawing for proposed official FDC with bold simulated cancel, with cachet in blue as well, on cream paper backed with thick card, "addressed" to artist Otto Wallish and signed by him at bottom left (in Hebrew), probably UNIQUE, very fine, 1998 cert. Muentz; possible "limitation" of "1/1" at top above the drawing An important item and one of the very few ways to demonstrate the unissued 1500m value!
Please note that we are still working on adding images for the lots. If the lot you are interested in does not have images available yet, we invite you to check again in a few days.
If you still cannot find the images you are looking for in a few days, please send us a message. Important: don't forget to mention the lot number(s).
Thank you for your understanding.
Loggen Sie sich in Ihr Konto ein