Los 30002 –
Original pencil drawing on envelope for proposed c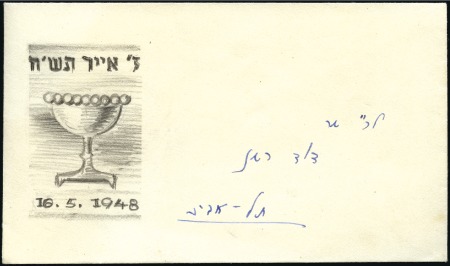 Los 30002 –
Original pencil drawing on envelope for proposed c
Israel » Israel 1948 "Doar Ivri" Artist's Drawings
Realisierter Preis
Wird noch veröffentlicht
Auktionsdatum
Do. 13 Jun 2013 at 15:00 (Europe/Zurich)
Original pencil drawing on envelope for proposed cacheted FDC with correct date of issue (16.5.1948) but showing the cup design which is shown on the coins of the 20m and 250m-1000m values, addressed to the Minister of Posts, David Remez, and coming from the Otto Wallish estate, couple faint toned spots on reverse else very fine and UNIQUE,
Please note that we are still working on adding images for the lots. If the lot you are interested in does not have images available yet, we invite you to check again in a few days.
If you still cannot find the images you are looking for in a few days, please send us a message. Important: don't forget to mention the lot number(s).
Thank you for your understanding.
Loggen Sie sich in Ihr Konto ein