Los 20087 –
HANKOW: 1903 Postcard registered to Belgium with "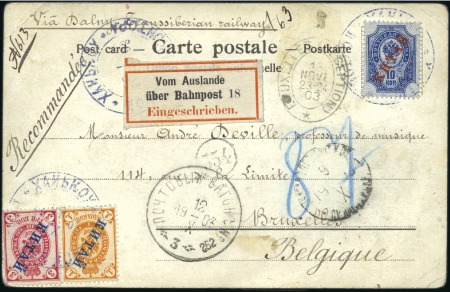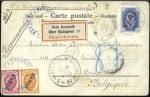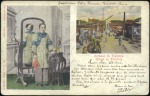 Los 20087 –
HANKOW: 1903 Postcard registered to Belgium with "
Russia » Russia Post in China
Realisierter Preis
1'500 EUR
Schätzung
800 – 1'200 EUR
Auktionsdatum
Fr. 20 Apr 2012 at 13:00 (Europe/Zurich)
HANKOW: 1903 Postcard registered to Belgium with "KITAI" 1k, 3k and 10k paying the 4k postcard rate plus 10k reg'n fee, tied by Hankow 29.9.03 cds in blue (T&S type 1), sent via Manchuria to the Trans-Siberian railway with "No.17 Field Post Office" (Dalny) and Chinese Eastern Railway "Postal Wagon No.262 / 3" (Harbin-Manchuli) transits, registration label applied by German TPO, Brussels arrival, very rare as no Hankow type 1 cancels have previously been recorded in blue.
汉口:1903年挂号明信片寄比利时,贴俄国客邮1,3及10戈比,销蓝色汉口戳(1903.9.29)(T&S1型),经满州里至西伯利亚铁路,销17号军邮戳(大连)及中东铁路火车邮戳262/3(哈尔滨-满州里),贴挂号标签,布鲁塞尔到达戳,极罕见,之前并没有其它蓝色汉口戳纪录
Please note that we are still working on adding images for the lots. If the lot you are interested in does not have images available yet, we invite you to check again in a few days.
If you still cannot find the images you are looking for in a few days, please send us a message. Important: don't forget to mention the lot number(s).
Thank you for your understanding.
Loggen Sie sich in Ihr Konto ein