Los 20083 –
CHEFOO: 1915 Cover registered to Denmark, franked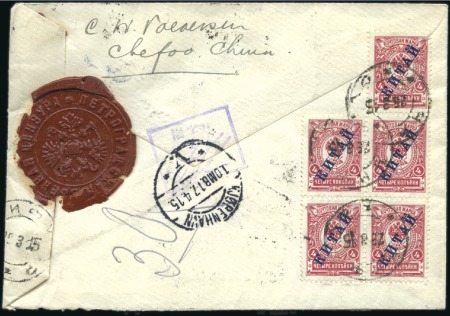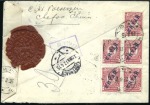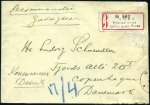 Los 20083 –
CHEFOO: 1915 Cover registered to Denmark, franked
Russia » Russia Post in China
Realisierter Preis
650 EUR
Auktionsdatum
Fr. 20 Apr 2012 at 13:00 (Europe/Zurich)
CHEFOO: 1915 Cover registered to Denmark, franked on the reverse with "KITAI" 4k in block of five tied by Chefoo 25.3.15 cds (T&S type 3B), obverse with reg'd label in French and Cyrillic, resealed by censor at Petrograd with ornate red wax seal (Speeckaert type 42) with violet hs (Speeck. type 7) adjacent, Copenhagen bs, fine and scarce multiple on cover.
烟台:1915年挂号封寄丹麦,背贴俄国客邮4戈比五枚,销烟台(1915.3.25)(T&S 3B),另贴挂号标签( Cyrillic及法文),销彼得格勒邮检戳,背销华丽的封蜡(Speeckaert 42型),及销紫色邮检编号戳,亦见销哥本哈根日戳,中上品及少见的邮封
Please note that we are still working on adding images for the lots. If the lot you are interested in does not have images available yet, we invite you to check again in a few days.
If you still cannot find the images you are looking for in a few days, please send us a message. Important: don't forget to mention the lot number(s).
Thank you for your understanding.
Loggen Sie sich in Ihr Konto ein