Los 20073 –
CHEFOO: 1899 Cover from the American Bible Society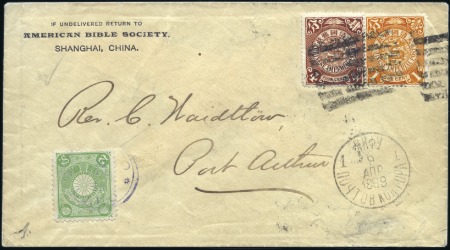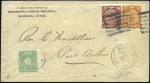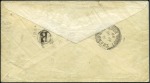 Los 20073 –
CHEFOO: 1899 Cover from the American Bible Society
Russia » Russia Post in China
Realisierter Preis
1'800 EUR
Schätzung
800 – 1'200 EUR
Auktionsdatum
Fr. 20 Apr 2012 at 13:00 (Europe/Zurich)
CHEFOO: 1899 Cover from the American Bible Society in Shanghai to Port Arthur (modern day Lüshunkou), with Chinese 1c and 4c Dragons tied by barred obliteration with Shanghai Local Post cds on reverse, sent through the Japanese P.O. at Chefoo where 2s Chrysanthemum was added and handed to the Russian P.O. at Chefoo, with Chefoo 9.4.99 transit (T&S type 2) for transmission to Port Arthur, a superb and rare combination franking showing three different P.O.s in China. Note: The Lyaotung Peninsula (incl. Port Arthur) was leased to the Russians and was treated as outside of China. As China was not a UPU member, the Chinese stamps were not valid hence the need for a franking with stamps of one of the UPU countries.
烟台:1899年由上海美国圣经公会寄阿瑟港(现今叫旅顺口),贴蟠龙1分及4分票销欵似上海八卦戳,背销上海工部戳,经烟台日本客邮,贴2钱菊花日本票,交给烟台俄国客邮,销烟台中转戳(1899.4.9)(T&S2型)再到阿瑟港,为特别及罕有的混贴封,且展示不同客邮戳
Please note that we are still working on adding images for the lots. If the lot you are interested in does not have images available yet, we invite you to check again in a few days.
If you still cannot find the images you are looking for in a few days, please send us a message. Important: don't forget to mention the lot number(s).
Thank you for your understanding.
Loggen Sie sich in Ihr Konto ein