Los 20067 –
SHANGHAI: 1917 Cover to Edrova (Novrogod) redirect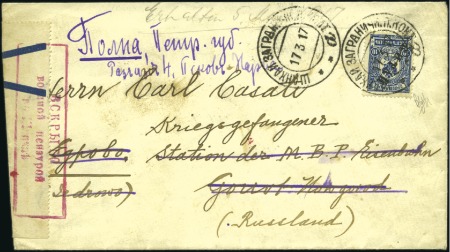 Los 20067 –
SHANGHAI: 1917 Cover to Edrova (Novrogod) redirect
Russia » Russia Post in China
Realisierter Preis
850 EUR
Auktionsdatum
Fr. 20 Apr 2012 at 13:00 (Europe/Zurich)
SHANGHAI: 1917 Cover to Edrova (Novrogod) redirected to Polna (Petrograd), with "KITAI" 10k tied by Shanghai 17.3.17 cds (T&S type 8A), opened and resealed by censor at Shanghai with stamp selvedge and boxed "Opened/ By Military Censor / In Shanghai" cachet (Speeckaert type 4), signed Holcombe.
上海:1917年,寄Polna(彼得格勒)封,贴俄国客邮10戈比销上海圆戳(1917.3.17)(T&S 8A型),经上海邮检打开及封好,销"打开/军事邮检/上海"戳(Speeckaert 4型),由Holcombe认证
Please note that we are still working on adding images for the lots. If the lot you are interested in does not have images available yet, we invite you to check again in a few days.
If you still cannot find the images you are looking for in a few days, please send us a message. Important: don't forget to mention the lot number(s).
Thank you for your understanding.
Loggen Sie sich in Ihr Konto ein