Los 20051 –
SHANGHAI: 1899 Cover registered to Germany incl. r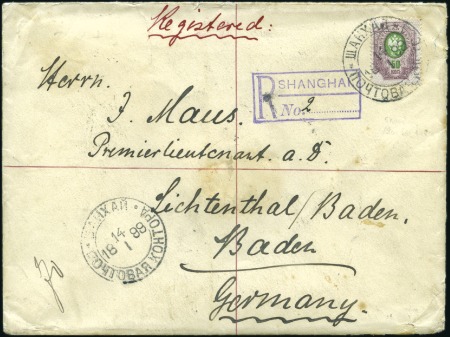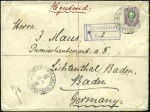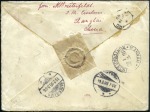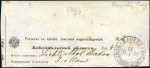 Los 20051 –
SHANGHAI: 1899 Cover registered to Germany incl. r
Russia » Russia Post in China
Realisierter Preis
1'000 EUR
Schätzung
800 – 1'200 EUR
Auktionsdatum
Fr. 20 Apr 2012 at 11:00 (UTC)
Beschreibung
SHANGHAI: 1899 Cover registered to Germany incl. registration receipt, cover franked with 50k, both cancelled by Shanghai 14.1.99 cds (T&S type 1), with receipt indicating that 4 lots were sent at the 10k foreign letter rate plus 10k for registration, cover with Shanghai, Hong Kong, Baden-Baden and Lichtenthal bs, boxed registered hs on obverse, some minor soiling, very rare and unusual with the receipt Note: The registration receipt shows that administration of Russian P.O.s in China at this time was from the adjoining Siberian region of Transbaikal.
上海:1899年,挂号封寄德国,附挂号收据,贴50戈比,皆销上海圆戳(1899.1.14)(T&S1型),此收据所示4个项目各为10戈比国际邮资及10戈比挂号费,见销上海,香港,Baden-Baden及 Lichtenthal日戳,销长方形挂号戳,微污,十分罕见及不常用的收据 备注:此挂号收据展示俄国在华客邮的管理此时来自贝加尔的西伯利亚区
Please note that we are still working on adding images for the lots. If the lot you are interested in does not have images available yet, we invite you to check again in a few days.
If you still cannot find the images you are looking for in a few days, please send us a message. Important: don't forget to mention the lot number(s).
Thank you for your understanding.
Loggen Sie sich in Ihr Konto ein