Los 20039 –
PEKING: 1913 Romanov 20k postal stationery envelop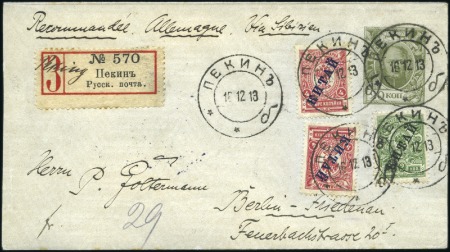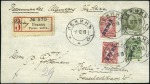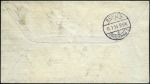 Los 20039 –
PEKING: 1913 Romanov 20k postal stationery envelop
Russia » Russia Post in China
Realisierter Preis
3'400 EUR
Auktionsdatum
Fr. 20 Apr 2012 at 13:00 (Europe/Zurich)
PEKING: 1913 Romanov 20k postal stationery envelope registered to Germany, uprated with "KITAI" 2k and 4k (2) paying double the 10k foreign rate plus reg'n fee, all cancelled by Peking 16.12.13 cds (T&S type 7B), reg'd label in Cyrillic with ms in English (complying with UPU regulations) adjacent, Berlin bs, a rare use of the Romanov stationery as ordinary Russian stamps and stationery wasn't sold in the Russian P.O.s in China.
北京:1913年,罗曼诺夫20戈比邮资挂号封寄德国,另贴俄国客邮2戈比及两枚4戈比,皆销北京圆戳(191.12.16)(T&S 7B型),贴挂号标签(Cyrillic)手写英文(万国邮联规则),亦见销柏林日戳,罕有的罗曼诺夫邮政用品,因为俄国在华客邮没有出售这款邮票
Please note that we are still working on adding images for the lots. If the lot you are interested in does not have images available yet, we invite you to check again in a few days.
If you still cannot find the images you are looking for in a few days, please send us a message. Important: don't forget to mention the lot number(s).
Thank you for your understanding.
Loggen Sie sich in Ihr Konto ein