Los 20032 –
PEKING: 1904 Cover from a French railway engineer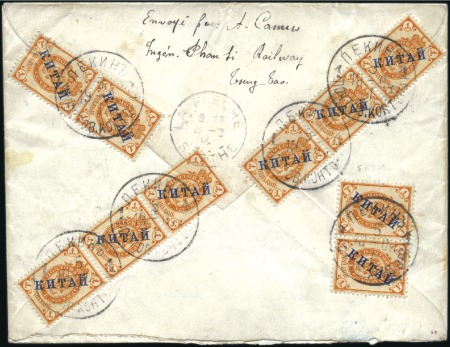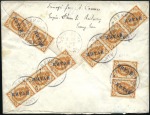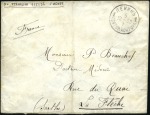 Los 20032 –
PEKING: 1904 Cover from a French railway engineer
Russia » Russia Post in China
Realisierter Preis
460 EUR
Auktionsdatum
Fr. 20 Apr 2012 at 13:00 (Europe/Zurich)
PEKING: 1904 Cover from a French railway engineer at Tsingtao working on the Shanhsien line, posted from the Russian P.O. at Peking to France, franked on the reverse with ten "KITAI" 1k tied by Peking 5.1.03 (error for 04) cds (T&S type 6), La Fleche bs, fine and unusual franking of the 10k foreign rate.
北京:1904年寄法国封,由青岛的法国铁路工程师(Shanhsien线)寄出,贴俄国客邮1戈比销北京戳(1903.1.5,年份错误)(T&S6型),销La Fleche日戳,中上品及少见的10戈比国际邮资
Please note that we are still working on adding images for the lots. If the lot you are interested in does not have images available yet, we invite you to check again in a few days.
If you still cannot find the images you are looking for in a few days, please send us a message. Important: don't forget to mention the lot number(s).
Thank you for your understanding.
Loggen Sie sich in Ihr Konto ein