Los 20015 –
TIENTSIN: 1916 "KITAI" 3k(+3k) reply paid letter c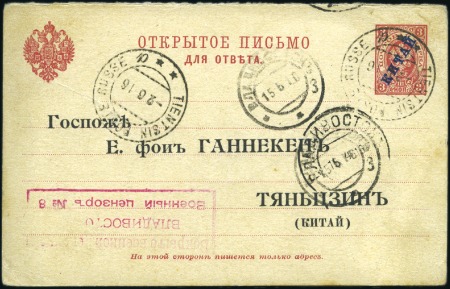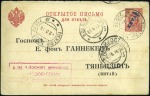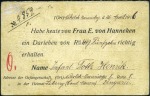 Los 20015 –
TIENTSIN: 1916 "KITAI" 3k(+3k) reply paid letter c
Russia » Russia Post in China
Realisierter Preis
550 EUR
Auktionsdatum
Fr. 20 Apr 2012 at 11:00 (UTC)
Beschreibung
TIENTSIN: 1916 "KITAI" 3k(+3k) reply paid letter card printed for use by an Agency in Tientsin for the relief of German and Austro-Hungarian P.O.W.s in Russia, sent to an Agency official acknowledging receipt of 15R by a P.O.W. at Nikolsk-Ussuriysky, postmarked Vladivostok 15.4.16 then again one month later after censor check with boxed censor hs applied, cancelled on arrival by Tientsin 2.6.16 cds (T&S type 7A).
天津:1916年俄国客邮3戈比及已付3戈比的邮简,由天津的拯救位于俄罗斯的德籍及奥匈俘虏营机构,附 Nikolsk-Ussuriysky支付15卢布收条,见销海参威邮戳(1916.4.15),及销长方形邮检戳,及销天津到达戳(1916.6.2)(T&S 7A型)
Please note that we are still working on adding images for the lots. If the lot you are interested in does not have images available yet, we invite you to check again in a few days.
If you still cannot find the images you are looking for in a few days, please send us a message. Important: don't forget to mention the lot number(s).
Thank you for your understanding.
Loggen Sie sich in Ihr Konto ein