Los 20003 –
TIENTSIN: 1875 Cover to Dereham, England, franked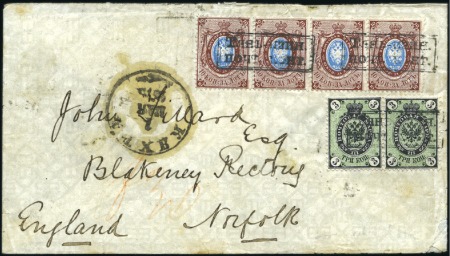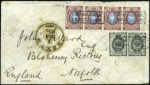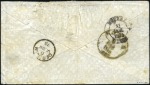 Los 20003 –
TIENTSIN: 1875 Cover to Dereham, England, franked
Russia » Russia Post in China
Realisierter Preis
80'000 EUR
Schätzung
70'000 – 100'000 EUR
Auktionsdatum
Fr. 20 Apr 2012 at 13:00 (Europe/Zurich)
TIENTSIN: 1875 Cover to Dereham, England, franked with 1866-75 10k strip of four and 3k pair, tied by three clear strikes of dateless double-framed "TYAN-TSZIN. POCHT. KONT." (Tientsin Post Office) hs, with Kyakhta transit adjacent dated 1 May 1875, the letter having left Tientsin about two weeks earlier, showing Moscow transit and Dereham arrival bs. Postage of 46k represents pre-UPU rates of 30k for conveyance to the Russian border at Kyakhta and 16k for onward transmission from Russia to England. Earliest known mail from the official Russian Postal Administration in China, using Russian canceller on Russian stamps, and only known use of Tientsin's first Russian handstamped canceller on cover. The Jewel in the crown of the Russian post in China Note: Illustrated in the BJRP nos.18 (1955) and 71 (1991) and "The London Philatelist" Nos. 1151-52 (1988)- The "Kyakta Type 2" of Tchilingirian & Stephen, "Stamps of the Russian Empire used Abroad" pt. 4 (1959), 9.312, said to be based on the cancellation on this cover, is a fantasy, showing posthorns at foot instead of the fleuron depicted herin.
天津:1875年寄英国封,贴10戈比直四联及3戈比双联,销双框"TYAN-TSZIN"(天津)戳,另销恰克图中转戳,邮资为30戈比寄到恰克图,16戈比由俄国寄英国 已知此封为俄国完整邮政系统建立以来,俄国客邮局使用俄国邮戳销俄国票的最早使用纪录 备注:记载于英国邮报俄国邮刊1955年第18期及1991年第71期中
Please note that we are still working on adding images for the lots. If the lot you are interested in does not have images available yet, we invite you to check again in a few days.
If you still cannot find the images you are looking for in a few days, please send us a message. Important: don't forget to mention the lot number(s).
Thank you for your understanding.
Loggen Sie sich in Ihr Konto ein